Cutting Edge Technologies understands the difficulty to expertly staff a programming department in a machine shop. It is difficult to find qualified CNC or CMM programmers to keep up with shop demands. Finding the right workforce balance as new contracts come in puts your business at risk. Cutting Edge can work with you to increase your programming capacity and/or tackle short-term surges as needed.
We have a wealth of experience programming and performing to ISO, AS9100, and other industry standards. Our parts and programming have helped various organizations in aerospace, automotive, commercial, general aviation, industrial, and other manufacturing uses. We're familiar with machining aluminum, stainless steel, copper, wood, plastics, and more. From programming to modeling to complete turnkey solutions, Cutting Edge is capable of providing premium, precise results.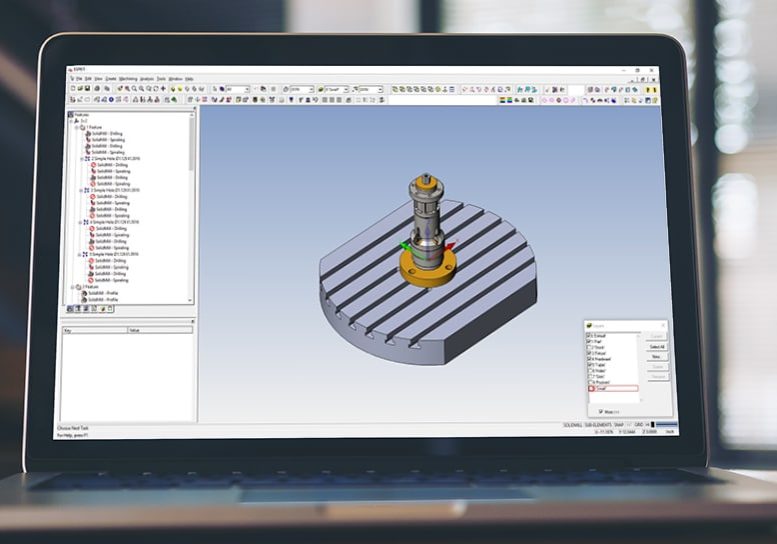 (ESPRIT)
Over the years, we've made our name with our CNC programming skill and knowledge. We can handle advanced machining on 3-, 4-, and 5-axis machines. Our experience with different materials, design standards, industries, and those industry expectations allow us to help clients produce precision parts efficiently. Whether it's an aluminum piece for a Gulfstream wing or programming parts for an AR-15 sight mount, we can help you.
(SolidWorks, Catia)
Solid Modeling is a great technology that allows a business to speed up product/part development and manufacturing processes. We can quickly create the solution for your customized needs. Our extensive knowledge of SolidWorks allows us to create complex product design. Cutting Edge will make sure designs are reliable, is within limits, and avoids failures.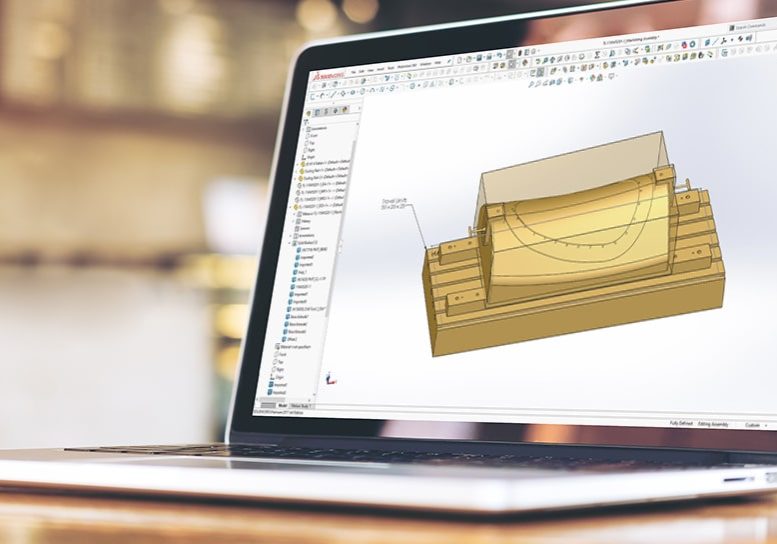 (PC-DMIS CAD++)
Knowing PC-DMIS CAD++ experts is a great thing – we can help you keep pace with the changing landscape of coordinate measuring machines. This knowledge allows us to analyze, measure, and display key product and manufacturing details. We can help you handle the most difficult scanning tasks and devices.
Tooling and Fixture Design
It's no secret that well made tools make higher quality components and can drastically reduce costs. Yet, many manufacturers don't have the time or the capabilities to make critical jigs, fixtures, tools, and dies. That's where we come in. We'll help by reviewing specifications and drawings, recommending the best process and materials, and documenting the creation of the tool so that you're ready for installation and production.
There's nothing more exciting than helping a client realize their business goals. Often, that means helping them through the prototyping of a product that could grow their business exponentially. We can help you, even if it is something as simple as a drawing on a napkin. Cutting Edge regularly helps clients from product concept to creating programming for the part or device to finding the optimal manufacturing plan.
Cutting Edge Technology often delivers turn key product manufacturing for customers. By partnering with a large network of experienced, vetted machine shops, we deliver quality products on time. Our local network widens your capabilities – with horizontal and vertical milling, mill-turn, and 5-axis machining options. Customers regularly use our design-to-delivery service to increase capacity, as well as produce short runs or prototypes.